Sabrina Zeri
My work, though born from a chaos within, pulls from my hearts fire- creating special pockets of moments in my art that transpire a magical sense of harmony and love. I have been pursuing transformation, looking through nature to find inspiration, and I am driven by the universally vivid imagery seen in my dreams. I believe this gives my work a reflection mirroring into my life. The haloed light I see within all my natural elements brings such hope and individuality, pushing me to expand the boundaries of imagination, flexing my reality and expectations of what it is to make art.

My efforts are purely to instruct the senses of the possibility of hope which can be created within that space. I find myself ritualistically in a worship of what love-of-self could look like in that moment. This sacred technique brings forth vivid sketches that illuminate my personal manuscripts, evolving into what you see before you.

This particular piece, reBirth, was a beast and tested me throughout its entire process. Though the difficulties came, I saw them, and I conquered them- using mediums not normally married together, on a surface you wouldn't draw on but instead paint- I've created imagery to dance before the eye, and sing a song to water your mind with sound while you gaze. I painted this drawing with my fingers using charcoal, conte crayons, nu pastels, and chalk on raw canvas.

You can see the peaceful agenda within the tension I have inside, here in reBirth, constantly swaying, creating anew. The owl, a symbol of wisdom and the night, and the phoenix, a symbol of rebirth and fire, are a duality I face. With trying to transform myself from old to new, I flow around in a circle, always ending up right at the beginning, right at the start, but still reborn like a phoenix at it's end. My hope is to show the different textures and possibilities within the growth that comes with such transformations, and the love and life that follows. This, to me, is what it means to be human and nurture the self.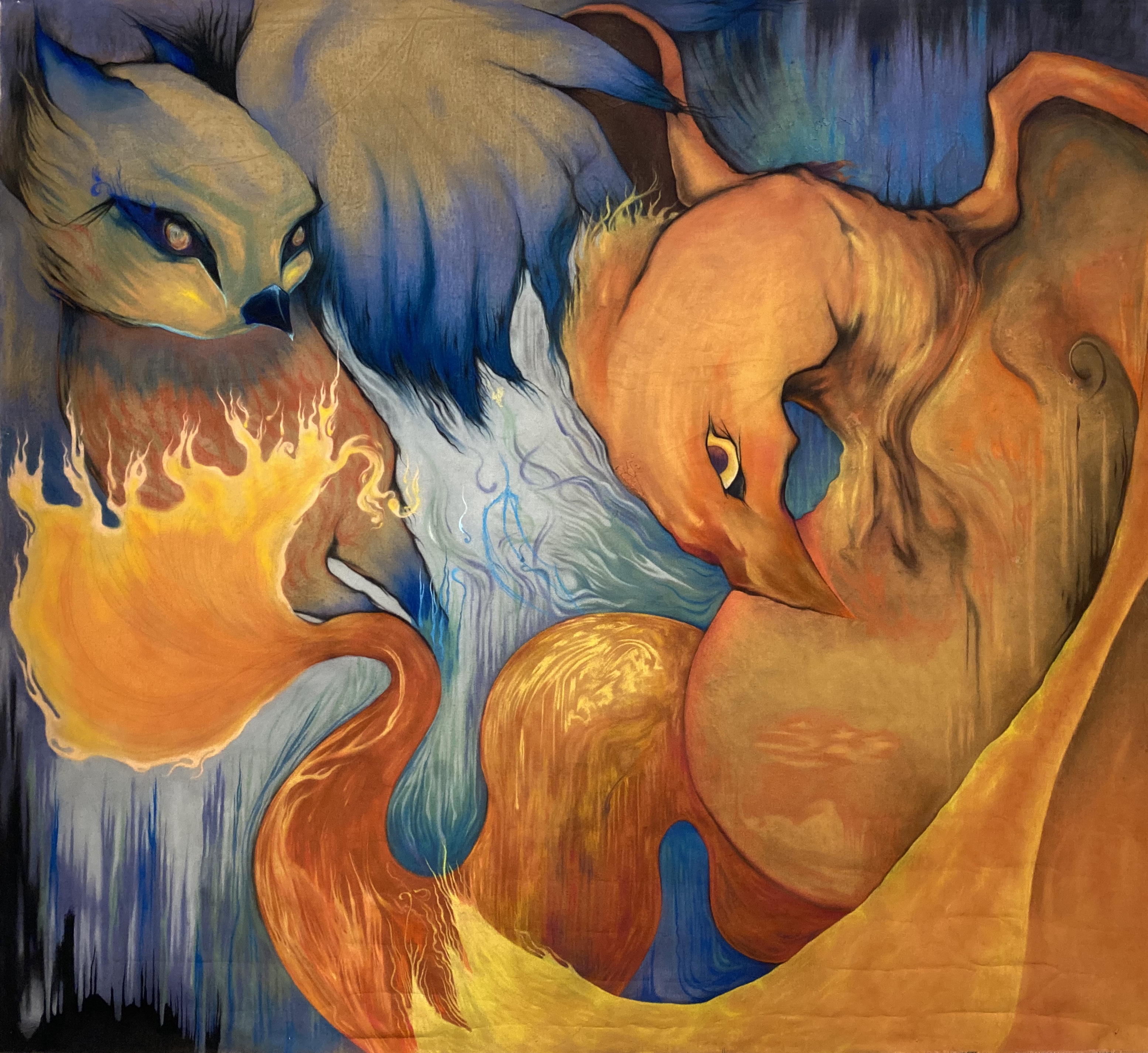 reBirth
6' x 8'

Charcoal, Nu pastel, Conte Crayons, and Chalk on canvas

Detail 1
Charcoal, Nu pastel, Conte Crayons, and Chalk on canvas

Detail 2
Charcoal, Nu pastel, Conte Crayons, and Chalk on canvas

BIO
Sabrina Zeri was born in Los Angeles, California in 1987, and began studying her B.A. at Art Center College of Design in 2009 after transferring from Pierce Community College. When she found out she was going to become a parent, she took time off to be a full time mother and is currently finishing her undergrad at Pepperdine University in Malibu. She is hoping to apply to a Masters program either at UCLA, Yale, or Art Center College of Design. Last spring (2019) she had her group Junior Thesis exhibition entitled, Evidence of Effective Struggle, at the Weisman Museum at Pepperdine University, and showcased work in Existential Anxiety and Identity. She grew up in Topanga Canyon, California, surrounded by the nature that inspired her youth while diving into explorations in art. Drawing and painting lays the foundation to all her creations, whether she is welding a sculpture, experimenting with clay and ceramics, or pushing her sketches to grand sizing, she starts everything in her sketchbook. In her artwork, reBirth, she drew her inspiration from sitting within a quiet space on the beach, glancing up to the sky, and noticing formations unmask themselves within the clouds.