Melissa Labnow
Over the past year, I have become interested in learning more about my family history, since I knew very little about either side of my family. Some of my ancestors lived and worked in migrant farms - including orange groves - in California. Because of this, oranges have become a fascination for me. It is meaningful to know where my family comes from. Sometimes, it floats or is distorted by abnormal color. Sometimes it lies peeled and exposed or climbs like a vine only as new buds.

As I have explored the orange motif, I feel frustrated by a sense of being stuck in a past of which I know very little about. As I have continued painting, I combat this by obscuring the imagery with abstractions about the past with sporadic and opaque painterly strokes or translucent layers, which create a sense of awareness that something cannot be known.

I am particularly drawn to desert landscapes because of their immense openness, but also their ability to hide abundant signs of life that sometimes lurk just beneath the surface. The abstract curves in some paintings also incorporate elements of nature and its rise and fall. Color choice is crucial for me in communicating emotion, like nostalgia, longing, and curiosity. This aspect is mostly instinctual, and somewhat thematic, as I often repeat colors in paintings, but rarely color schemes. The architectural sketches create a sense of structure, although fragmented. Some of the buildings depicted in these sketches are from photographs of places that are meaningful to me, some are idealized and stylized and some are even unrecognizable collections of line.

This body of work is about letting go of control over others' choices in my life - of letting go of perfection and the fear of ruining something beautiful. Sometimes it is hard to learn about family. For me, safety comes from imagining what people were like and how they lived. But another part of me craves to know more about the reality of my family's story because it is a part of my identity.
Threads
48" x 48"
Mixed media on canvas

To wander
48.25" x 72"
Mixed media on canvas



Translating...
20" x 20"
Acrylic on canvas


Reality
48" x 36"
Mixed media on canvas



The Last Box
60" x 70"
Mixed media on canvas


Migration
32" x 26"
Acrylic on canvas


Sight Unseen
22.25" x 19.25"
Oil on wood panel



Overlooked
20" x 26"
Acrylic on canvas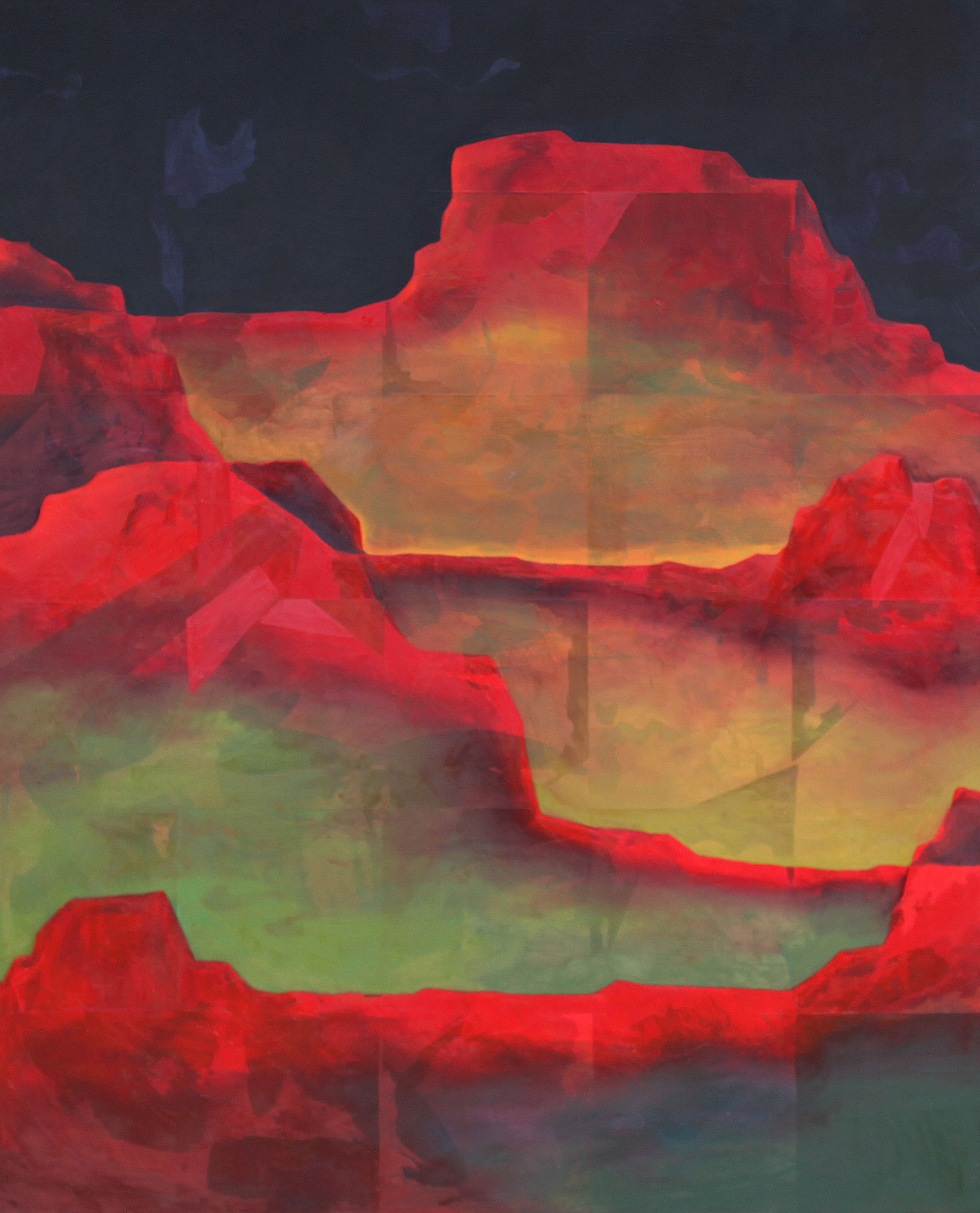 Deep Time
72" x 60"
Mixed media on canvas

BIO
Melissa Labnow is an artist based in Los Angeles. Melissa finds inspiration for her art in the physical world, through the people she interacts with, and her own family and identity. She is interested in using art to explore her biracial heritage through surreal landscapes, light and shadow, and the interaction of colors. Melissa studied abroad with Studio Arts Centers International in Florence, Italy during the summer of 2017, where she studied printmaking and batik. She participated in the Spring 2019 Junior Studio Exhibit: Evidence of Effective Struggle, which was her first exhibition. Melissa plans to pursue a Master's Degree in Studio Art after graduation.