Jane Yi

This creative body of work builds upon the previous study and celebration of my Korean heritage, and Hangul, the Korean alphabet. In this work, I explore the relationship between myself and my maternal grandmother, and experiment with ways of processing personal emotions and memories.

As a Korean-American student in digital arts, my goal is to find common ground with my grandmother through art. My grandmother has been a constant and significant figure in my life. I lived with her for most of my childhood, during which I observed the utmost selflessness, humility, and love. In the video, Happiness is (행복이란), my grandmother reviews her work and visits my paternal grandmother. As she goes through her work, I sensed her nostalgia towards her calligraphy and in general, being able to do what she loves in a familiar environment. Aside from being one of the pieces in my project, I was extremely happy to have made this video—to reminisce and commemorate the lively, loving image of my grandmother. Despite the generational gap, my hope was to create work inspired by my grandmother that displays my own unique style and vision while also honoring her and preserving her work. Amongst her calligraphy pieces, there is one that reads, "Happiness is something you create yourself and keep in your heart. And every now and then, you peer inside and smile." This piece came up a few times during conversations I had with her. These talks still resonate with me in profound ways, and inspired me to create stationery through a digital iteration of her paintings as a functional way to preserve and spread her work.

The next body of work, Cherished, is inspired by more members of my family. It stems from love, but also fear of losing loved ones. My maternal grandfather passed away in November of 2014—much sooner than expected. For three years, I wasn't able to even think about him without ending up in tears. I had always been close with my maternal grandparents, so his passing was extremely difficult for me. I would have dreams so vivid that I would wake up thinking my grandfather was still alive. As I was even closer with my grandmother, I could not imagine what it would be like to lose her.

The COVID-19 outbreak has brought back the fear of losing my loved ones. This time, it isn't just me being paranoid by myself—my grandmother is also terrified. It was heartbreaking to see my grandmother so scared that she cannot not step one foot outside of her home, and refrained from making a five-minute trip to see her four-month-old great-granddaughter. However, this time of quarantine has undeniably deepened my appreciation for even the littlest things. When I asked my grandmother what she would like to do once it is safe to be outside, she replied that she would like to simply look around in nature and at the sky for as long as possible. This inspired waiting, which portrays an unreachable ocean sunset through a window, made from the cardboard box of an Amazon package.

I realized that making art—among many other things—is a beautiful and sentimental method of preservation. Thus, I experimented with painting and collage, using a collection of photos that include my close family members, as a way to preserve lovely, perfect moments in time in order to create stay, hold tight, tireless, and YMT. It was a challenge to use materials that were already in my home (which wasn't much), but the process made sense in the moment and for my present context. I made flowers out of toilet paper, highlighting the chaotic behavior of the public to panic-buying as the virus has become more widespread. I also use clothing from my mother and grandmother, as well as dried flowers from flower arrangements from Mother's Day I made last year. Transitioning from a digital interface where changes are made from a single stroke to collage and painting was much less messy or hectic than I expected. In many ways that process became quite personal, emotional, and soothing. I incorporated silhouettes, which are outlines or abstractions of a figure. Like words, they hold personal meaning and spark an immediate, specific memory and emotion in my mind. Although viewers won't understand the exact experience I have through these pieces, I hope that they can appreciate the visual components, and even be moved to remember an experience close to their heart.
hold tight
20" x 16"

Mixed media on canvas

stay
20" x 16"

Mixed media on canvas


tireless
20" x 16"

Mixed media on canvas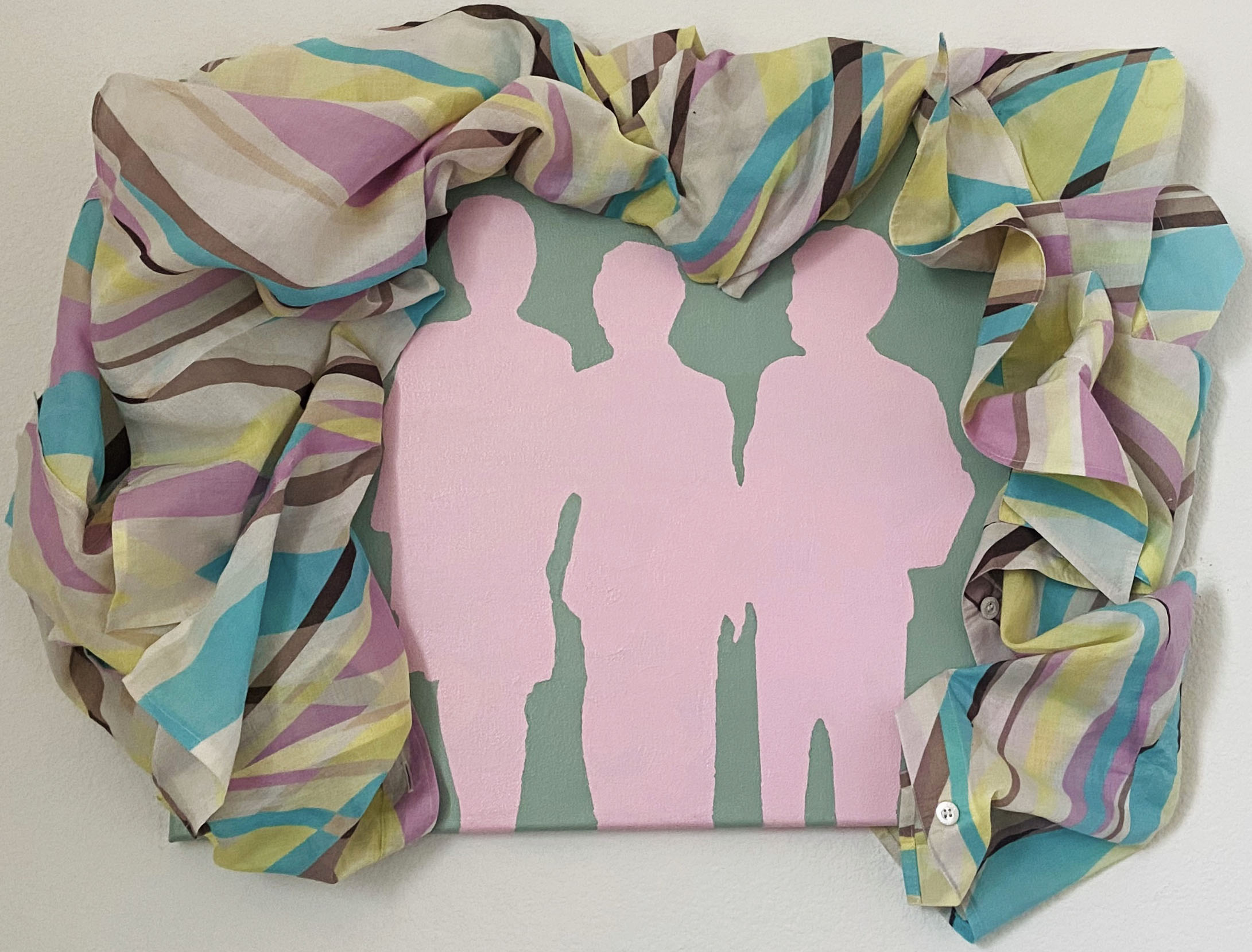 YMT
20" x 16"

Mixed media on canvas

waiting
20.75" x 16" x 4.75"
Acrylic paint on cardboard

Happiness Is
13:29
Single channel installation

BIO
Jane Yi was born on August 10, 1997 in South Korea. She moved to the US at age seven, and grew up in Orange County, California. Jane Yi is a double major in computer science and digital arts. Her work embodies a bridge between the technical aspects of coding and the creative elements of digital art. Intertwined with stories of her Korean heritage, experiences, and surroundings, she explores her Korean identity, faith, and familial relationships. Her work includes installations of visuals translated from code, digital iteration, video, and collage. Yi's practice represents the constant growth she has experienced in her studies, through which she discovers opportunities and envisions more possibilities.