Ginnie Bang
One's identity and existence is shaped through culture and tradition. Growing up as a first generation Korean-American, I experience life differently from others around me. This motivates me to discover my relationship with the deep and rich Korean culture.

It took many attempts to create a series that genuinely describes my understanding of this topic. While some of the pieces I have created help visualize the different aspects of the Korean culture, other pieces were in response to personal life experiences from living under a strict "Korean roof." In order to fully - and authentically - engage in the artwork, I needed to discover a larger context for understanding myself. To accomplish that, I had to pick apart and recall the memories from childhood that have had the most impact on shaping my identity. In addition, there are three generations of women in my family who were born in the Year of the Tiger - my grandmother, my mother and myself. By combining these experiences from my childhood memories of Korean holidays and festivals, I have been able to communicate a series of dynamic visual aids that serve as constant reminders of my roots.

My creative work for this installation primarily centers around acrylic paint on wood panels, with the addition of a variety of materials, such as paper mache, molding paste, and micron ink pens. I chose to focus on acrylic paint because it allows me to achieve clean and crisp lines that are popular characteristics in Korean folk art. As for the color palette in my creative work, I used a wide variety of colors commonly associated with traditional Korean art. I utilized minute details to encourage the viewers to view the piece from a closer viewpoint for the purpose of captivating the viewer's attention. The use of such intense detail in order to create something larger, correlates to how every story and memory of a culture shapes a person into who he or she is today. The qualities that pervade and characterize the works are the combination of the lasting impact of tradition and personal life experiences associated with being Korean American.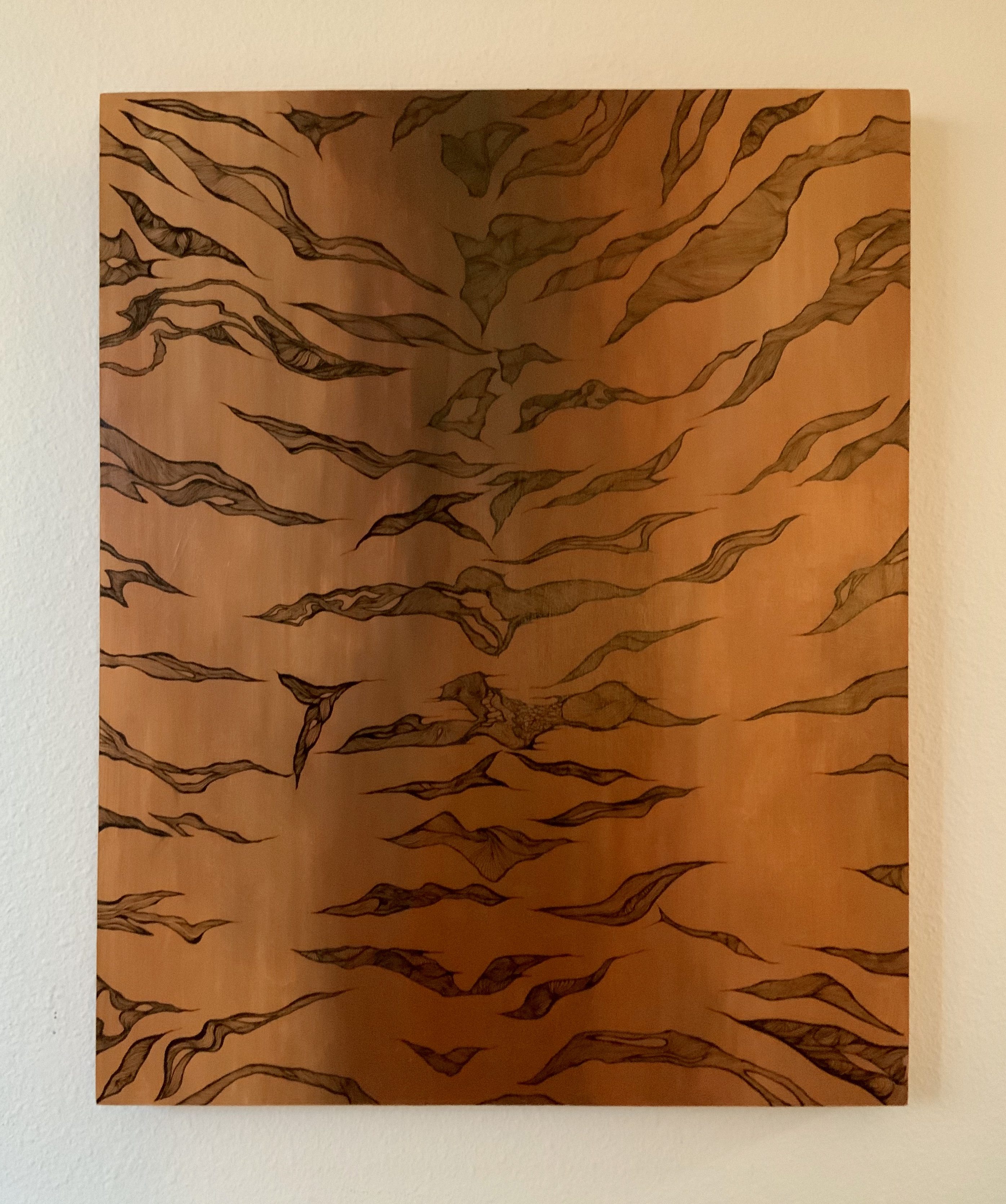 I Saw a Tiger, A Tiger Saw Me
24" x 30" x 1.5"
Acrylic paint, micron pen on wood canvas

2001
18" x 24" x 2"
Acrylic paint on wood canvas

We Became the Sun and Moon
24" x 36" x 1.5"
Acrylic paint, glue, paper on wood canvas


Culture Queen
36" x 36" x 2.5"
Acrylic paint, micron pen on wood canvas

Mask dance (Talchum)
6" x 24" x 2"
Acrylic paint, micron pen on wood canvas


BIO
Ginnie Na Bang is an Los Angeles-based artist, who has been pursuing a degree in Studio Art from Pepperdine University from Santa Clarita, California.

Ginnie finds her inspiration from her Korean heritage, nature, and animals. These interests inspire her to explore and create artwork that connects with ages old Koreanculture and artwork. In her family, three generations of women - her grandmother, her mother and herself - were all born in the year of the tiger. This fascinates her and the different charismatic qualities of various animals. Her work makes use of their different charms to communicate certain emotions or messages to her viewers.